International conference held at Harper Adams for the first time
29 July 2016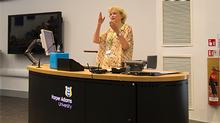 IFSA's 2016 symposium focused on particular kinds of change in agriculture – social and technological transformation."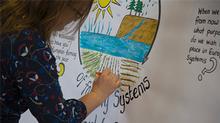 Harper Adams University has hosted the International Farming Systems Association (IFSA) symposium for the first time.
It's the 12th time the event has been run. Participants attended the event from across the globe, including from Australia, New Zealand and America.
The symposium was organised by IFSA President and Head of the Crop and Environment Science Department at Harper Adams University, Dr Andy Wilcox.
Dr Wilcox said: "IFSA's 2016 symposium focused on particular kinds of change in agriculture – social and technological transformation.
"We don't want to only consider what is changing in terms of these dimensions and their contexts, but how they relate to each other and how purposeful social and technological transformation of farming systems in different parts of the world are realised and how they could be brought about in the future."
The symposium was informally opened with an art café where a graphic facilitator captured participants' responses to questions and incorporated them into a large piece of art.
The questions had been explored in small groups, looking at farming system changes over the past 10 years, followed by a look to the future.
Key responses in both areas involved young people and environment.
The event was officially opened with two plenary talks.
The first was given by Professor Edith Lammerts van Bueren, who explained the system approach she and a team used to improve potato varieties for organic farming. She said: "In the Netherlands, late blight is a large problem in potatoes.
"Especially for organic agriculture as we're not allowed to use copper.
"This creates a huge problem. After several years of early late bright outbreaks, like we saw this year, 20 per cent of the organic farmers stopped growing potatoes, which is quite substantial.
"This was due to the lack of resistant cultivars."
The second plenary was presented by Professor Michael Wood. He spoke about globalisation in relation to the China, New Zealand dairy assemblage.
Opening his speech, Professor Wood said: "In my current research, we start with the thought that globalisation should not be seen as a top-dying, homogenising force, which it often it is.
"Rather, we see globalisation as being about interconnectivity, interdependent and something which is produced and reproduced through localities."
Following the plenary sessions, the participants broke out into workshops. In one of these, Harper Adams University senior lecturers Dr Jonathan Cooper and Dr Iona-Yuelu Huang gave presentations about their research.
Dr Jonathan Cooper discussed his up-coming research project: "On-Farm Energy Generation: Enabling Innovation?" Dr Cooper will be comparing and contrasting renewable energy incentives in Nova Scotia, Canada and the United Kingdom to see how innovation is enabled in this area within the agricultural sector.
Renewable energy incentives are currently being reviewed in the UK and reduced financial incentives have recently been announced.
Dr Iona-Yuelu was project leader for a study which looked at the mulberry farmers' innovativeness and innovation adoption in Yunnan, China.
During her presentation, she gave an interesting account to the background of why and how mulberry silk farming was moved to Yunnan, in the hope it would help spread wealth from the west to the east.
Daytrips gave participants the chance to visit a number of local organic and integrated farms, agro-forestry areas and a large dairy operation. In addition, participants also got to visit the Harper Adams engineering department to see the research into robotics and precision farming.
They were discussing the question: "Is robotics in farming good or bad?" To help answer and debate this question they had a busy day on campus, with a live demonstration of a drone and a look at a couple of larger drones which UAV pilot and mechatronics teaching assistant Jonathan Gill is working on; a talk about farming systems of the future by Simon Blackmore; along with engineering lecturers sharing current projects such as laser weeding and robot Eric.