Student wins international competition with dissertation project
20 May 2016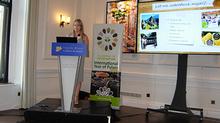 To be awarded first place in the virtual stream of the LovePulses competition is a dream come true. The judges' belief in this product is a life changing honour which will never be surpassed."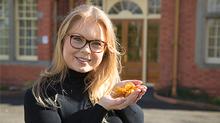 Harper Adams University final year BSc (Hons) Food and Consumer Studies student Charlotte Reynolds has won an international food competition with an innovative new project she created for her dissertation.
Charlotte, 25, will be going to the Global Pulse Convention in Cesme in Turkey and the Institute Food Convention in Chicago, America, as a prize for winning the Global Pulse Confederations #LovePulses Worldwide competition with her new lupin crisp product.
Charlotte, from London, said: "For my university dissertation, I wanted to combine my passion for cutting edge innovation with the 'International Year of Pulses' (IYP) initiative to create a new product.
"I considered many pulses for this project, and with over 18,000 species the possibilities were abundant.
"However, through extensive research, it became apparent that whilst lupins were considered a sustainable pulse with brilliant nutritional credentials, little had been documented about their use to improve public health.
"It was also interesting to discover that statistics on lupins within the UK agricultural industry go unrecorded, essentially making it a hidden crop.
"Lupins appeared to be the elusive pulse with great potential, indicating a gap in the market to create something truly original.
"Combining the IYP initiative and current UK market trends and demands for plant-based dietary foods, I created Blooming Food's lupin crisps. Blooming Food's lupin crisps are an innovative, uncomplicated and appetising snack, which are rich in protein and low in fat and calories. This makes them very appealing to increasingly health conscious consumers.
"Whilst trawling through information to find sources for my project, I saw Pulse Canada's 'Mission ImPULSEible' new product competition. I emailed to ask whether I would be eligible to enter and they pointed me to the Global Pulse Confederation's #LovePulses worldwide competition.
"I felt anxious about entering because I believed the odds of me winning against entrants from potentially 193 countries was practically non-existent. It was my project supervisor Lorna White that encouraged me to enter by saying that participation in the event would be great to declare on my CV whether I got placed or not.
"With help from members of the marketing and communications department I put together a three minute video (at top of page) to showcase my product and the problems and trends it addressed.
"A few weeks later I received an email asking if I would be willing to give a talk at Food Matters Live due to my success in the competition. It was due to this email that I indirectly found out I had won first prize as the official email had gone into my spam folder!
"It was a complete shock, which is still only beginning to sink in.
"To be awarded first place in the virtual stream of the LovePulses competition is a dream come true. The judges' belief in this product, as well as the recognition for the hard work that has gone into it, is a life changing honour which will never be surpassed.
"The prize includes a trip to the Global Pulse Convention in Cesme, Turkey, which takes place in May. There I will receive my award which will be presented by Dr Solh, Director General of ICARDA and Head of the Jury Panel for the Virtual Competition.
"I will then be travelling to Chicago to the Institute of Food Technology, one of the largest food exhibitions where the latest global food trends, and the products and innovations designed to address them, are on display.
"The crisps I've created will be showcased at the exhibition which is expecting over 23,000 attendees. It is a great opportunity to get the product and brand known.
"Blooming Food has far exceeded my original objectives to produce a successful dissertation. It has evolved into an on-trend, widely appealing and commercially viable product.
"I now hope to launch Blooming Food as a business after graduating. I want to get my lupin crisps into retailers across the UK and even internationally. This would show how pulses are not only economical and sustainable, but how they also have the ability to increase public health whilst addressing future food security concerns, all in a delicious snack.
"A recognisable crisp brand in the UK has already showed an interest to see if this is a product they can help me develop; but it's currently very early days!"
Lorna White, senior lecturer and Charlotte's project supervisor said: "Charlotte's Honours Research Project followed the ideal route of wide exploration in initial research to determine an area of focus which was then refined into her objective to utilise the potential of lupins in food product innovation.
"Lupins have received little attention to date, but pulse crops in general are the focus of much attention in the food industry for their gluten free and high protein status alongside strong credentials as a sustainable crop product. The resulting crisps show a great deal of potential."
The Food Matters Live eventon 'Innovations and NPD incorporating Pulses' was held at the Canadian High Commission in London on Monday May 16. Charlotte gave a talk to over 70 attendees from the food industry on pulse crisps. Andrew Jacobs, Managing Director at Poortman Ltd. and event organiser, congratulated Charlotte on her presentation.
'Making My Mark' is a collection of dissertations being completed by Harper Adams final year undergraduate students which have an interesting story behind them or are on a subject of public interest. If you have a dissertation you wish to be included, please email press@harper-adams.ac.uk