Student Profile - Darren Hinson
I came to an open day. At the time Harper Adams was the second of my choices, but after exploring the area and campus I had decided before leaving that day that it was now my first choice.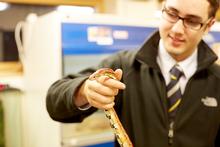 Q&A
Many courses at Harper Adams offer the chance to 'top up' a foundation degree or HND into a full BSc degree. With a HND in Animal Management from Solihull College, Darren Hinson is now spending two years* converting to BSc (Hons) Animal Behaviour and Welfare.
The rural Shropshire campus is a far cry from Darren's home city of Birmingham, but the location helped to swing Darren's decision to study here.
"I came to an open day. At the time Harper Adams was the second of my choices, but after exploring the area and campus I had decided before leaving that day that it was now my first choice.
"The environment is so enjoyable to be in. I love the idea of studying out in the country. Although I am from a big city I have always been a country person at heart and I could be this at Harper Adams. Everyone here has similar interests so you are never short of people to talk to."
What do you enjoy most about your course?
Learning a little more about farming which I wasn't really expecting but luckily I do have an interest in farming. It's also good being able to meet lecturers who are highly respected in their fields, and having the opportunity to take some of their knowledge away to use myself. The teaching and staff support here is second to none; the staff are highly knowledgeable in their fields and their main goal is to pass all of their skills, knowledge and contacts onto us, to provide us with the best possible basis for our careers.
What skills/knowledge have you gained?
I have a range of animal behaviour knowledge that could get me jobs in anything from farming to companion animals or animal technician in labs. The course has taught me all the handling skills, record keeping, and health/welfare considerations needed when working in the animal industry.
What are the facilities like?
Excellent, the variety of departments to aid learners in any issue is fantastic, anything from personal to academic, and career support.
What will be your favourite memories of university?
Initially I would never have said halls of residence - it took me a while to settle in as I was a top-up from an external institute and about three years older than most of the freshers. I had done all that crazy stuff before but once the freshers settled down, I really got to make some great friends and we had lots of fun! Leaving halls was very difficult as there were such great memories had.
How would you sum up Harper Adams?
It is a uni you must experience, for both the teaching quality and the great times to be had outside of the classroom. You meet people from all walks of life and take away many memories and skills from a highly commended university in the agriculture, animals and food industries.
What do you do in your spare time?
I am a course representative and attend regular course committee meetings, to keep myself and my peers up to date with everything happening with regards to the academic aspects of the animals department. It is an integral part of university as it gives the students a voice, allowing senior members of staff to take on board any issues or good thoughts the students are having with regard to their studies.
What are your career plans?
I am planning on working in the dog training industry, with the short term goal of training enforcement and detection dogs for the police and army. Once I have gained enough experience and knowledge working for a variety of UK dog trainers, I hope to become an animal behaviourist and run my own business by treating and training the general public's dogs and training up working dogs such as police, army and sheep dogs. You must be highly motivated in order to excel in this industry and be spotted. I am creating a variety of contacts and options for career paths to ensure I have a wide range of opportunities and most of all a choice of job which many people today do not have the luxury of.
*students take between 18 months and 2 years to top-up.