University Diploma
Equine Nutrition
Dates
Please note, this course will commence in September 2017. Please contact the Short Course Office via scco@harper-adams.ac.uk or 01952 815300 for details of when module tuition will take place thereafter.
Prices
For individuals commencing studies in September 2017, the tuition fee is available on request.
Dinner, bed and breakfast is available at additional cost but must be secured in advance. For all those attending face-to-face tuition, a buffet lunch and beverages during the day will be provided at a modest rate.
Full residential rate: £66.50 per night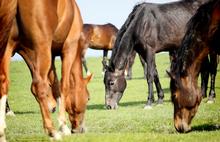 Who is this course for?
The University Diploma in Equine Nutrition (Dip EN) is designed for sales and technical personnel working in the equine feed industry dealing specifically with issues relating to forages, concentrate feeds, grassland management, rationing for a range of life stages or workloads and supplementation.
Why you should apply
Underpinning commercial activity with this Diploma will demonstrate your commitment to the equine feed industry. Learning occurs in all aspects of our daily lives, so why not take the opportunity to gain a recognised level 5 Higher Education (HE) qualification for it?
This course will provide individuals with a fundamental nutritional knowledge and opportunity to apply learned information in a practical context in order to enhance animal health, welfare and performance whilst developing their own effectiveness in the workplace.
Entry requirements
The expectation will be for applicants to possess one of the following:
At least five GCSEs at grade C or above or equivalent. These should normally include English, Mathematics and a Science or their equivalent,
Evidence of a sufficient standard of core educational skills to benefit from, and succeed in higher education and substantial industrial and professional experience and responsibility or an NVQ at Level 2, 3 or 4, as appropriate. For candidates with no higher education qualifications, such experiences should normally be of 5 years or more.
In addition, successful students will also be required to be active in some form of workplace activities (either part- or full-time employment or voluntary work) within the equine industry for the duration of their studies.
What you will gain on completion?
On successful completion of the award, you will have an invaluable combination of skills to match your existing industrial experience that will set you aside from others. In addition, you will be able to conduct your role more effectively, efficiently and competitively. Individuals will be better placed to address the nutritional and feeding needs of a range of equids by providing technical advisory services to owners and/or keepers in accordance with current research findings relating to equine nutritional health, welfare and performance.
How to apply
Please contact the Short Course and Conference Office (details below).
The deadline for applications to the September 2017 intake will be 1st July 2017. Places will be offered following this.
Contact Us
Lisa Plant
Business Support Services Manager
Email: Click here to contact Lisa Plant
Telephone: +44 (0)1952 815324

The course comprises four equally weighted modules, the first to be studied at level 4* with the remaining at level 5:
Principles of Equine Nutrition*
Learning from Work in the Equine Industry
Equine Nutritional Strategies
Advances in Equine Nutrition
*Principles of Equine Nutrition will also be delivered as a stand-alone training opportunity, in which if students successfully complete assessments, will be awarded 15 credits at level 4 on the Framework for Higher Education Qualifications (FHEQ).
Mode of delivery
With the exception of Learning from Work in the Equine Industry, all modules will take approximately six months to complete. Learning from Work in the Equine Industry will be launched at the start of the course and final assessments submitted approximately eighteen months later. Module delivery will be via flexible blocks of face-to-face tuition of between 1-5 days length. In addition to formal lectures, the programme will comprise tutorials, laboratory practicals, yard and feed mill visits as well as web-based interactive sessions.