New Agrii scholarships to be launched at Harper Adams University
18 April 2017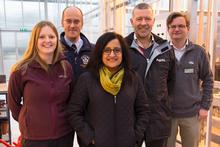 Agrii's scholarship and placement provides a superb opportunity to experience their business for a full year and could lead to permanent employment after graduation."
Leading agronomy company Agrii, are going to be offering two new scholarships at Harper Adams University; one of which will include a placement year.
Nigel Francis, team manager for Agrii said: "Between 2010 and 2012, Masstock, one of the companies that merged to create Agrii, offered a scholarship to Masters students at Harper Adams.
"We see that it is important to offer something back to the students, and so the idea has been reintroduced.
"We've been looking at the opportunities available, including the undergraduate placement scheme. This is something that we haven't been involved in before, but would like to be."
Agrii will be offering an undergraduate scholarship, which will include funding of £4,500 for the year the award is given, along with a placement year at the company the following year. There'll also be the possibility of additional funding during the student's final year at Harper Adams. Furthermore, there'll be a scholarship for an MRes student, also to the value of £4,500.
"We hope the placement year will help future scholars with their career, and also demonstrate that Agrii is an employer of choice.
"We have a number of graduates from Harper Adams working at Agrii and a number of our employees do short courses here. It is one of the best universities in the agricultural sector, and due to the placement year, we can see that graduates come to us ready for industry."
Terry Pickthall, agriculture placement manager at Harper Adams is pleased with the new relationship. He said: "We're delighted to welcome Agrii to our growing portfolio of scholarship providers. Agronomy and crop protection is an area of great interest to our students and many find graduate employment in this vital part of the industry. Agrii's scholarship and placement provides a superb opportunity to experience their business for a full year and could lead to permanent employment after graduation."
Agricultural course manager Russell Readman added: "I welcome this development of an undergraduate scholarship and placement opportunity with Agrii. Such close relationships with leading companies in the industry are key to the success of agricultural courses at Harper Adams."