Harper Adams University's Chris Freeman among Beef Shorthorn Society's award finalists
6 April 2017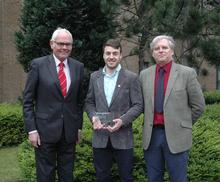 "I was thrilled to get to the finals, to be part of a very exciting award process, to meet the other finalists and be challenged by the judges."
Chris Freeman, a Harper Adams University studying MSc Ruminant Nutrition was among the four finalists for the inaugural Beef Student of the Year award presented by the Beef Shorthorn Society in Edinburgh recently.
Chris said: "I was thrilled to get to the finals, to be part of a very exciting award process, to meet the other finalists and be challenged by the judges." He has already enjoyed success having been awarded the Harper Adams Club Postgraduate Scholarship. Chris has also gained practical experience on farms throughout the country as well as in Australia and Canada, and would eventually like to pursue a career in beef consultancy.
The overall winner was Orla Kelly, of Queen's University Belfast. Students studying agriculture were invited by the Beef Shorthorn Society to compile an essay discussing the future of suckler beef production.
Those producing the four top essays were invited to make a presentation which demonstrated an understanding of the industry, the challenges it faces post Brexit, and how farmers will need to respond. The judging panel featured QMS head of economics services' Stuart Ashworth and the Beef Shorthorn Society director, Geoff Riby,
Stuart Ashworth commented: "It was refreshing to see the passion each finalist had to share their vision of a sustainable beef sector and challenge the industry going forward to – find and share best practice, present itself to the consumer and drive technical efficiency to deliver both economic and environmental benefits at farm and sector level."
Geoff Riby said: "The Beef Shorthorn Society is pleased to make this new award – the first of its kind, which has identified some of the most motivated and forward thinking students within the beef sector. We are confident that the honours will contribute towards them achieving a successful career within the industry."