Talk by Tom Tynan, EU Agriculture Commissioner cabinet member
15 November 2016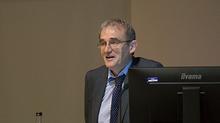 Youth unemployment is one of the biggest challenges the European Union faces... and yet you all leave this university with the world being your oyster."
Tom Tynan, Harper Adams alumnus and member Agriculture and Rural Development EU Commissioner Phil Hogan's Cabinet, visited Harper Adams on November 11.
The visit followed Mr Tynan's successful after-dinner talk at the September dinner of the Harper Adams in Ireland alumni association, held in Port Laois, Ireland.
University Vice-Chancellor Dr David Llewellyn said: "We took Tom on a tour to see a range of our research work and he was able to meet a group of postgraduate students for a discussion on Brexit.
"Tom later spoke to a large audience of students and staff about his career and his route to the EU Commission, as well as the topic of Brexit, where his insights into the EU Commission's work in this area were of considerable interest."
Mr Tynan is functionally responsible for Agricultural Markets, Rural Development, Research & Innovation, Stakeholders, Fisheries/Marine and Regional Policy. He is also the desk officer for six member states namely Ireland, United Kingdom, Netherlands, Denmark, Sweden and Finland.
Prior to joining the European Commission, Tom worked across a range of agri-business and policy areas where he held a variety of senior management roles. His experience spans commercial, strategy, operations and on farm advisory work. He is a former member of several Boards, including Agri-Aware, the Scientific Advisory Board of Alltech.
Tom hails from a strong mixed farming background in County Kilkenny and was educated at University College Dublin and Harper Adams.
Addressing students on Friday, Mr Tynan praised Harper Adams University's close links with the agriculture industry, saying that businesses could clearly see what they had to gain from being connected to the university.
His other take-home message, he said, was that Harper Adams graduates faced a wealth of employment opportunities.
"Youth unemployment is one of the biggest challenges the European Union faces," he said: "and yet you all leave this university with the world being your oyster."
He added that he had considered taking a postgraduate qualification at Harper Adams earlier in his career, but was unable to take time off work to do so. However, Mr Tynan said, it opened his eyes to opportunities.
"I went through my career and later realised I needed to sharpen up my understanding of soil science and agronomy. So I went back to Harper and I secured by Basis and Facts qualifications here, and my soil and water management award. I still use those skills and knowledge every day.
"So it pays to invest in yourself. Many of you will see finishing at Harper as the end of study, but it's not. It's the end of the beginning. Career development is forever."