Partnership with University of Namibia established
11 October 2016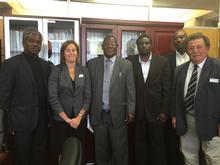 Harper Adams is well placed to help UNAM promote an improved awareness of public health and modern food production techniques."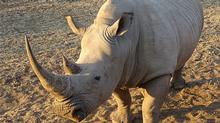 Harper Adams University has extended its international contacts into southern Africa following the signing of a Memorandum of Understanding (MoU) with the University of Namibia (UNAM).
Alison Pyatt, senior lecturer in animal science and Dr Steven Kayne, professional director for the veterinary pharmacy education programme (VPEP) flew to Windhoek to meet with the UNAM pro-vice chancellors and senior staff to discuss the opportunities for collaboration.
Alison Pyatt said: "Initially we are advising staff at the UNAM School of Pharmacy on the development of a postgraduate veterinary pharmacy programme similar to that being currently offered at Harper Adams.
"The University is generously providing two scholarships to enable UNAM staff to join the next cohort of the course that commences in January 2017.
"In the longer term our aim is to promote staff and student exchange and research links in different areas of mutual interest."
Dr Kayne explained: "Namibia has a land area almost four times that of Britain, much of it desert, but it only has a population of two million people. Many of the people there, especially in the 'regions', still use traditional farming practices.
"Harper Adams is well placed to help UNAM promote an improved awareness of public health and modern food production techniques."
Alison and Steven addressed industry and professional stakeholders and staff at the School of Pharmacy and also met with the dean, assistant dean and researchers at the Faculty of Agriculture and Natural Resources. A tour of the facilities revealed some interesting breeds of sheep, goats and poultry.
The visitors were treated to a drive at the Okapuka Ranch game farm, where they were told that good placement opportunities may exist for Harper Adams students.
The programme was organised by Dr Vetja Haakuria, deputy associate dean of UNAM School of Pharmacy. Dr Haakura has studied the Postgraduate Diploma in Veterinary Pharmacy at Harper Adams University.