Harper Forum report - Huw Lloyd, BASC
28 January 2016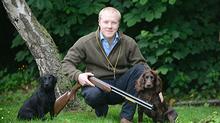 Tonight (Thursday January 28) the forum welcomes Alltech E-CO2 , an environmental consultancy firm who use on-farm environmental tools and assessments to improve on-farm efficiency
Report by student Tom Whittaker

Working for everyone who shoots: a talk by Huw Lloyd of BASC
Our first forum of this term was held on Thursday 21st January and we welcomed Huw Lloyd of the British Association for Shooting and Conservation (BASC).
The talk 'Working for everyone who shoots' was an ideal opportunity for those who are interested in shooting to hear about the work that BASC do for their members.
Huw is an ex-Harper Student and former Chairman of the Harper Forum Society, who graduated in 2011, and now works as a South East Regional Officer for the BASC.
BASC was founded in 1908 and since then has worked hard to 'Promote and protect sporting shooting and the natural environment throughout the UK and overseas'.
With 144,500 members, the organisation is in a strong position to represent the UK's shooting population both here and in Europe. Surprisingly, the majority of BASC's members are people who live in cities, proving that the sport is not just for a select few who live in the countryside.
BASC has an important role in defending the right to own firearms, especially in light of recent terrorist attacks. Other hot topics which the BASC are involved with include: defending lead shot, amending the EU firearms directive, issues with Hen Harriers. The organisation has also been busy writing a letter to be published in the Guardian listing the inaccuracies in the recent articles blaming sheep farmers and grouse moors for recent flooding.
Becoming a member of BASC can be extremely beneficial to those who shoot. BASC is the first resort for any legal disputes, with £10 million of legal, employer and product liability cover, as well as discounts on courses, cars and insurance. Membership is particularly attractive to young people keen on shooting as it costs just £24 for, while for Young farmers it is £36, a significant discount on the £72 for standard membership.
We have some great speakers lined up for this term, including representatives from organisations such as Cogent, Promar, as well as our sponsors Anglia Farmers, Criddle Grain and Househam Sprayers, who we would like to thank greatly for their support. We will also be running competitions with the chance to win tickets to various agricultural events.
Tonight (Thursday January 28) the forum welcomes Alltech E-CO2 , an environmental consultancy firm who use on-farm environmental tools and assessments to improve on-farm efficiency, leading towards increased profitability with a reduced carbon footprint. Starting at 7PM, it will be held in the Foulkes Crowther Lecture Theatre and all staff and students are welcome.

Visit the Harper Forum Facebook Page.
Read more about Huw Lloyd on our careers site 3point7m.com