Experience 'Down Under' transforms distracted pupil into determined university student
21 April 2017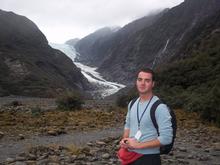 It was only when I went out to New Zealand and Australia that I realised that this was the sector I wanted a career in."
After finishing school in 2010, Daniel Liddell decided to travel to New Zealand and Australia to work within a variety of agricultural enterprises, these included: dairy, arable, pig production, feedlot beef and contract harvesting.
Now a student at Harper Adams University, 25 year-old Daniel has been awarded a Studley College Trust Scholarship, which he's used towards resources for his studies. It'll also provide him with the opportunity to gain more work experience.
Daniel, from Benacre near Beccles, Suffolk said: "Since leaving school, I've been trying to gain as much experience as I can. I believed the more experience I could gain on different farms, the more competent I'd be at being a farm manager, which was my initial career aspiration.
"I left school with mediocre A-level grades, as I wasn't really interested; I was too busy looking out the window and playing sports. University was not right for me at that point in my life. So instead, I went to New Zealand to work on a dairy farm for the first time; it was the start of my three and a half year journey Down Under.
"Firstly, I worked on a 450-cow dairy farm in Kaikoura, in the South Island of New Zealand for 11 months. At the end of this time, I was offered a promotion, but I knew that I wanted to experience different farm sectors. I spent that year's harvest at a large scale arable farm in Ashburton before moving onto a mixed pig and arable farm in Methven. I gained valuable knowledge and practical experience from those three workplaces.
"On returning to the UK in July 2012 to assist with the harvest on a local farm, I decided to apply for a visa to enable me to work in Australia. I'd heard about excellent opportunities in Australia during my time in NZ, which really appealed to me.
"I wanted to join a harvesting crew and managed to get a job as a John Deere combine operator, even though it was something I'd never done before.
"We started in Mungindi, New South Wales and worked our way down to Darlington, Victoria. By the end of the season, I'd worked roughly 500 hours in the combine, harvesting anything from rice, chickpeas, wheat to oilseed rape, with wheat yields ranging from 0.5t/ha in the north to 10t/ha in the south, so I had a pretty good grasp of what to do by the end!
"I then went on to work at an intensive feedlot beef unit in Mathoura, NSW. This involved feeding 5,000 Angus beef cows on a total mixed ration, feeding up to 70 tonnes of rolled barley daily, plus other concentrates which used to equate to around 20 feeder wagon loads twice a day. It was a challenge, but I gained a great deal from the job.
"My final job in Australia, was working with a different harvesting company, to further my skills with other combine manufacturers such as Case IH and CLAAS.
"Six months later, it was time for the next stage of my life. I returned back to the UK in February 2014, having already applied to university."
Now, Daniel is an agricultural student at Harper Adams University. He joined Harper Adams as an FdSc Agriculture student with a different mind-set to when he was at school; now hardworking and determined to graduate with the best degree possible.
"Due to studying hard in my first year, I fortunately attained high enough gradesto be eligible to transfer to the BSc (Hons) Agriculture with Farm Business Management course after my placement year.
"While at university, I've been introduced to the consultancy aspects of agriculture that proved to be useful on my placement year at A & M Turney, a large scale arable and farm business consultancy in Warwickshire. I realised that this was the sector I wanted to work in as I've always had a desire to help other people. Due to coming from a traditional tenant farming background, for my future career I want to help farmers succeed and become more profitable so that farming remains sustainable for future generations and to encourage young farmers like myself to succeed. I'd always thought that perhaps being a farm manager would be the best way for me to do this, however now I believe consultancy will be far more rewarding for me.
"I'm pleased that I've been able to find a career in agriculture which suits me so well. I've always had a passion for all aspects of farming. My love stems from when my dad used to take me to work with him at the weekends when I was much younger as I couldn't stay at home alone. It was only when I went out to New Zealand and Australia that I realised that this was the sector I wanted a career in."
As a result of receiving a Studley College Trust Scholarship, Daniel hopes to gain more work experience in farm consultancy, and the funds will help cover the cost of a laptop, books and other university costs.
On this he said: "The scholarship is really making a difference. Previously, during the holidays, I would find paid employment as I've been financially independent since leaving for New Zealand in 2011. However, as work experience outside of the placement year is generally unpaid it may not have been possible for me to work at the two placements I've already secured for the Easter and summer holidays without the scholarship.
"I'm really proud to be have been awarded this scholarship. This has allowed me to fulfil certain specific goals which are significantly going to affect my career path."