New scholarship provides student with dream placement opportunity in NPD
5 April 2017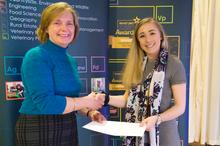 I'm incredibly thankful to have received the amazing opportunity to become a member of the new product development team at Tulip during my placement year
Harper Adams University student Claudia Lumbers, 20, has received the first Dalehead Tulip Foods Scholarship, which includes a placement job.
The second year BSc (Hons) Agri-food Marketing with Business Studies student from Huntingdon, Cambridgeshire said: "I've a strong interest in creating new and exciting products that serve the needs of the consumers.
"I'm very passionate about new product development (NPD) and would like to be part of the process that adds value for the primary producers whilst developing products that today's public demands.
"I'm incredibly thankful to have received the amazing opportunity to become a member of the new product development team at Tulip during my placement year and to be receiving a scholarship funded by Tulip – the first one ever!
"The scholarship and placement opportunity will allow me to gain an invaluable insight into the food production industry and further develop my career aspirations.
"I've an interest in understanding the supply chain and am eager to work for a company with such a good customer base. This opportunity to have an insight into the food production industry will aid me in my future career aspirations.
"I'm very much looking forward to starting my placement with Tulip next summer.
"I chose to study BSc (Hons) Agri-Food Marketing with Business Studies at Harper Adams University primarily due to a deep-rooted interest in the agricultural industry as well as in the food production and marketing sectors.
"Being a farmer's daughter from Cambridgeshire, I've been interested in agriculture for many years and have a great passion for studying the whole process that food goes through from farm to fork. I chose a degree that was heavily associated with both the food and the agriculture sectors to ensure my career aspirations were fully represented whilst allowing me to further develop and discover new opportunities within the industry.
"These are exciting and ever changing times. People will always need to eat, how and what and where they choose to eat will continue to develop in many ways. A significant influence will be made by companies, such as Tulip, through new product development and I'm excited by the opportunity to be part of that process."