Extended Foundation degree provides stepping stone to dream career route
1 March 2017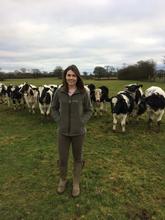 I'd like to thank Butchers and Drovers for giving me this opportunity. As it will help me reach my goals in the livestock and red meat industry."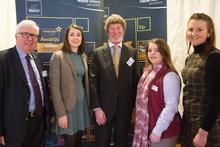 Jessica Tomley, 21, completed an extended foundation year, enabling her to be able to study FdSc Agri-business which she hopes will eventually lead to her owning her own farm shop and running activities to teach children about farming.
The student from Oswestry, Shropshire, said: "My interest in the agricultural business sector comes from growing-up in beef and sheep production. This inspired me to commence my studies at Harper Adams University in 2013 on the extended foundation degree programme, from which I've progressed to now studying FdSc Agri-business.
"I saw this course as most relevant to my interests, along with those I'd like to explore further in the future of my career in this industry. The agri-business course explores the links between farmers, the processing industries, the retailers and the eventual consumers.
"The course teaches specific modules on aspects such as agricultural production of livestock and crops, logistics, marketing and economics. This basically covers the full chain from farm to fork.
"Through a strong understanding of these sectors, I believe I can further my career in this industry. It is this interest that drove my decision to undertake my placement year at Dawn Meats Abattoirs, based at their head UK offices at Cardington in Bedfordshire.
"I've been involved in agriculture my whole life, growing-up on our family farm near Oswestry in Shropshire.
"Our family business contains a small suckler herd, as well as the buying and fattening of over 100 dairy cross calves each year. As well as this, we lamb around 800 ewes from both a lowland and upland based flock. I like to take an active involvement in the farm, and am passionate about the production of our meat.
"I believe that going forward, the origins and quality of the meat we consume will come under much more public scrutiny. The way in which meat is produced is very important, with the consumer increasingly wanting to be assured of its grass-fed high welfare status.
"I'd like to be in a position to help the industry through these situations in the future, and I believe that my current degree course and work placement have given me a strong foundation for my future in this industry.
"After graduating, I'd like to be involved in a buying team for a supermarket or abattoir. In the future I'd like to own my own farm shop, and run activities to teach children about farming."
Jessica has recently been awarded a Butchers & Droves Scholarship to help her reach her goals. On receiving the scholarship, she said: "I feel very privileged to be awarded this bursary, as it is very competitive.
"This scholarship means a great deal to me. I'm aiming to do a 'Top-up' year at the end of my foundation degree, as I'd very much like to carry on my education for another year, enabling me to achieve the full bachelor's degree. The award of this bursary will greatly help through this time.
"It will also help fund a trip to America where I'll see how their beef industry differs to the UK's.
"I'd like to thank Butchers and Drovers for giving me this opportunity. As it will help me reach my goals in the livestock and red meat industry."