Grandmother's kitchen to international food industry aspirations
23 February 2017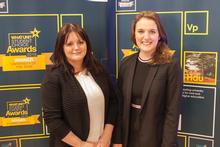 I'd like to thank all the staff at the Harper Adams catering department for this scholarship. Their generosity makes this scholarship available and their great food fuels us all through the long sessions spent in the library."
Some of Rachel Carroll's earliest memories are standing on a chair in her grandmother's kitchen so she could help with the baking. Her passion for food led to her studying BSc (Hons) Food and Consumer Studies at Harper Adams University, which has developed her into a conscientious consumer and food technologist
The 21 year old from Warwick said: "Like much of the UK population, I was unaware of the hard work, science and logistics that goes in to producing the elements of our evening dinner. This is why I chose to study BSc (Hons) Food and Consumer Studies at Harper Adams.
"I felt the university offers a real perspective from farm to fork; not only from the range of expert lecturers, but also from studying with many people who come from a background within the industry, giving the opportunity to understand a variety of viewpoints.
"I feel I couldn't get any closer to the primary production and as someone from a non-farming background I've found it fascinating.
"My first year of study opened my eyes up to the problems the food industry faces; from sustainability, pesticide usage and terrorist threats, to making sure the bananas are ripe when they reach the supermarket.
"By studying at Harper Adams, I'm experiencing the full food supply chain, and it is giving me the opportunity to develop into a conscientious consumer and food technologist. My weekly shop is now taking longer as I'm stopping to study the origin and components of my basket; all information I didn't even consider beforehand.
"I've always had a love for food. From an early age, baking and cooking food has been a keen passion of mine. Some of my earliest memories are of standing on a chair at the kitchen counter helping my granny make trifles and shortbread for the family.
"One of my favourite times of the year was Christmas as I knew this would entail lots of baking and eating!
"This passion grew as I did, and my interest in food developed as I begun to realise that food held more power than just to satisfy physical appetites. Food has profound meaning for humans, allowing people to express their culture, provide comfort and above all it has the power to bring people together.
"Food connects every human on the planet: everyone needs to eat. I've used this unique quality in many situations. When volunteering in primary school, I worked with nurture groups and used food preparation as a tool to build team work, communication and social skills amongst children. I believe that a basic level of food education is vital in our schools in the battle to produce a healthier nation.
"As I grew older and visited new countries and places, I soon realised that this everyday object that we take for granted, and indeed consider a right, is not accessible to everyone throughout the world, despite our UK food sources becoming increasingly international.
"This led to a desire to learn more about where our food comes from and how we are going to tackle the ever-increasing issues of food poverty.
"I hope in the future to obtain a job with in the food industry sector preferably in the new product development area which will allow me to further my love of food. I hope to be able to spend some time abroad, helping to create sustainable sources of food and give back to communities."
In recognition of her passion, Rachel is to receive the Harper Adams University Hospitality Scholarship.

On this, she said: "It is a great honour to receive the Harper Adams University Hospitality Scholarship. I'm going to invest the money in to furthering my education by taking extra courses such as HACCP and joining the Institute of Food Science and Technology (IFST).
"I also hope to use it to fund a period studying abroad in my placement year which would be an invaluable experience.
"It'll act as a huge stepping stone between my grandmother's kitchen and the international food industry.
"I'd like to thank all the staff at the Harper Adams catering department for this scholarship. Their generosity makes this scholarship available and their great food fuels us all through the long sessions spent in the library. The scholarship allows students to fulfil their potential here at Harper Adams and is a great help for people like myself."