Winner of Cogent Beef Futures competition also awarded scholarships
17 February 2017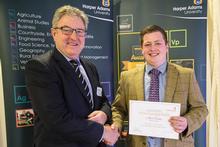 These scholarships provide me with funds to purchase much needed resources to compliment my dissertation and final year studies."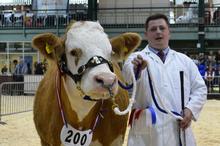 Harper Adams University BSc (Hons) Agriculture student Alex Heath has been named the winner of the Cogent Beef Futures competition, as well as recently receiving the Mercer scholarship and being the continuing Aviagen scholar at the university.
The 21 year-old from Market Drayton, Shropshire, said: "At home I'm involved in the daily duties and management of 100 pedigree Simmental and Limousin suckler cows of which I do all of the administration, husbandry and showing of cattle. I'm also actively involved in managing the family's 68,000 free-range hens.
"I'm passionate and dedicated in pursuing a career in agriculture, if not on a farm then working in the ancillary industries supplying and helping farmers; after all it is the most important job in the world.
"Whilst on placement with Aviagen, I spent six months in Edinburgh working on and visiting farms all over Scotland and north England, gaining invaluable knowledge and experience of breeding techniques, genetic selection and delivering a product for the ever-changing market demands.
"This was followed by six months spent in the hatchery at Stratford-upon-Avon, which was a completely new experience for me. A very interesting and challenging environment, the hatchery was at the cutting edge of technology and automation, which was fascinating to see.
"For my dissertation at university I'm exploring my keen interest in cattle breeding and genetics which I thought a valuable exercise would be to focus on the use of EBVs. I see this project as highly relevant to the activity on my family farm.
"I'll be analysing data from a farm that uses high index Simmental bulls and assessing if the extra cost of using better quality semen is worth it, in terms of calf quality and performance.
"I'll also be looking at cow efficiency, and the effect on profitability and efficiency as part of this.
"Looking into this topic tied in well with the inaugural Cogent Beef Futures Programme. For this I was involved with visiting several farms in Yorkshire to see a range of farming practices and met people from across the industry who have varying approaches. Following these visits I had to do a range of presentation, to show business skills and knowledge. I'm delighted to have won this competition."
Alex's prize for winning the competition is an all-expenses paid trip to France in spring 2017, including attendance at the Paris Show.
On receiving the Mercer Scholarship, and continuing as an Aviagen scholar which is presented in association with the British Poultry Council (BPC), Alex said: "These scholarships provide me with funds to purchase much needed resources to compliment my dissertation and final year studies.
"These include journals and articles on research and understanding of the specific areas that the agriculture course.
"I'm very thankful to receive the scholarships."