Two scholarships for agri-business student
16 February 2017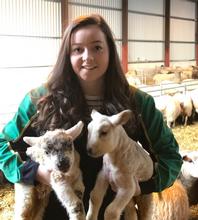 I'd like to thank my sponsors for the amazing opportunities that they've provided me with and for supporting me with my studies."
BSc (Hons) Agri-business student Emma Benson has been awarded the Duchy of Lancaster Scholarship and the Wilson Wraight Scholarship with placement.
The 20 year-old student from Catforth, Lancashire, said: "The Wilson Wraight Scholarship includes a placement job with the company. This will provide me with an insight into the financial and business sector of agriculture, and hopefully help lead me into a career in agricultural consultancy.
"My placement job will involve assisting agricultural management consultants in preparing and producing appraisals, budgets, subsidy grants and much more.
"The Duchy of Lancaster scholarship will enable me to further my skillset by providing me with the opportunity to undertake my trailer test and other short courses.
"Where I grew-up in Lancashire, there's a large amount of farms which are tenanted from the Duchy of Lancaster. This intrigued me to apply for the scholarship as I've seen the amazing opportunities provided for the tenant farmers.
"They provide families with the opportunity to run and manage a profitable agricultural enterprise, which they may not have been able to without the support of The Duchy of Lancaster.
"Not only does the Duchy of Lancaster provide opportunities for the tenant farmers, the tenant farmers then create employment for other rural enterprises, such as our family contracting business. Without this, small farms, such as my family's, wouldn't be able to survive with the recent pressures on local rural communities.
"My interest in agriculture developed when I became engrossed in my family's business; they run a small commercial flock of sheep whilst operating a contracting, mechanical and fabrication business.
"Having this background enabled me to understand the basics of agriculture and how at times it can be extremely challenging to survive in this sector due to fluctuations in the price of commodities.
"I'd like to thank my sponsors for the amazing opportunities that they've provided me with and for supporting me with my studies. My ambition is to one day become an agricultural consultant advising farmers on how to ensure their business is as profitable and efficient as possible and help them survive and strive forward."