Scholarship kick-starts student's international career dream
10 February 2017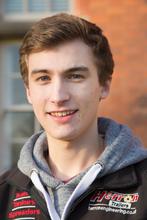 My placement will allow me to meet new people and hear about other cultures and hopefully make new friends from around the world."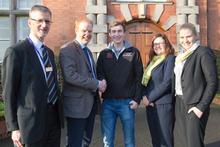 Harper Adams University student Lewis Hamilton has received the CLAAS Scholarship – a company he has hoped to work at since starting at Harper Adams University. He hopes the scholarship, including a placement with the company in Germany, will help launch an international career.
Lewis, 20, from Armagh, County Armagh, Northern Ireland, said: "I come from a predominantly non-agricultural background in Northern Ireland where my family currently have our land leased to other farmers for making silage and grazing of cattle and sheep, but I've always been involved in any maintenance tasks needed on our land such as fencing, hedging and drainage around the fields from a young age.
"These tasks, although small, gave me an insight into the world of agriculture and helped me grow a love for it; whether it be for livestock or machinery.
"Through working at both tractors and cars throughout my life with my father, I've always had a keen interest to fix things. The enjoyment I had for working to fix things gave me an interest in continuing to learn how things work, this lead me to the decision to apply for an engineering degree.
"The course content of the MEng Agricultural Engineering degree offered at Harper reflected my own interests in both agriculture and engineering.
"Also the opportunity for a year in industry involved with the course at Harper and the quality of the placements available at such well-known companies such as CLAAS attracted me to both Harper and the course.
"Since joining Harper, I always had an intention to apply to CLAAS, which is why I opted to study an additional module in German during my first year. I'm looking forward to the chance to build on my current knowledge of the language whilst on placement for CLAAS at their headquarters in Harsewinkel, Germany.
"After graduation, I have the aspiration to continue to work overseas as an engineer and hopefully with the option of expanding my horizons to work in various different countries around the world.
"I feel since leaving my home in Northern Ireland to attend Harper Adams, and also the opportunity to work in Suffolk at a on a harvest job this year, that working away from home is something that I enjoy very much and allows opportunities to gain new experiences and meet new people."
On receiving his scholarship, Lewis said: "I'm absolutely over-joyed and proud to know that I've received such a prestigious scholarship from one of the world's leading agricultural machinery manufacturers. To have known of the scholarship for the past few years and now to actually receive it is quite overwhelming.
"The scholarship allows me the opportunity to go work for CLAAS on placement starting in summer 2017, I will be working for CLAAS for a total for 15 months, starting with a three month spell working for CLAAS UK in Suffolk. Following this I'll work for 12 months at the CLAAS headquarters in Harsewinkel, Germany.
"While in Germany, I'll be living alongside other CLAAS employees from around the globe. This will allow me to meet new people and hear about other cultures and hopefully make new friends from around the world. I also hope to discover new places and apply what I've learnt so far at Harper to real life situations.
"I'd like to thank CLAAS for the opportunity to apply for this scholarship award and I'd also like to thank the panel that was involved in the interview process and for choosing me as the lucky recipient."