Volunteering helps student gain valuable experience and success
8 February 2017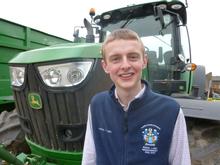 It's such an honour and privilege to receive the CLA Scholarship and the John Hepworth Scholarship. They've both given me a real opportunity to succeed and become a Rural Chartered Surveyor in the future."
Harper Adams University student Harry Storey's passion for farming and land management started when he was won first prize for his carrots at a local produce show at 12 years-old.
Now 19, Harry is studying for a BSc (Hons) Rural Enterprise and Land Management (REALM), while still maintaining his own allotment and participating in a number of volunteering activities, to broaden his experience base.
To help him reach his goal of becoming a Rural Chartered Surveyor he has recently been awarded the CLA Charitable Trust Scholarship and the John Hepworth Scholarship.
Harry from Highworth, in Wiltshire, said: "When I was 12 years old, I won first prize at our local produce show, after being loaned half an allotment. This cemented my interest in growing crops from a young age, which turned into a passion for farming and land management. Following my success, my interest grew and I now manage my own allotment.
"Before starting at university I took part in a number of volunteering projects. I started by volunteering with Stanton Park volunteers and the Woodland Trust, managing the local woodland and parkland. I then volunteered with the National Trust, carrying out practical, historic restoration and management.
"I've also completed a work experience placement at Westonbirt Arboretum which gave me a range of skills and knowledge in tree management, propagation and woodland education. Learning how to propagate trees has enabled me to grow my own oak and beech trees on my allotment.
"Even now at university, I still continue to try and get as much extra experience as possible. I've worked on the university farm dairy unit, as well as on a local arable farm.
"For the past two summers, I've attended canal camps, assisting with the restoration of the Cotswold Canals and the Wey and Arun Canal."
Alongside work experience in different areas of the sector, Harry has also performed well academically. Last year he was awarded the REALM Brick for construction and the REALM Cup having gained the highest overall grade at the end of first year.
On receiving the CLA Charitable Trust Scholarship and the John Hepworth Scholarship, Harry said: "Thank you for this incredible opportunity. It gives me the opportunity to attend professional industry events, as well as achieve my degree. In the future, I hope to contribute to the management and restoration of the landscape, with a particular interest in hedgerow and woodland management."
For his dissertation, Harry hopes to complete and study hedgerow management. These awards will be used to cover his cost of travel during the data collection phase and support his interest in forestry.
The financial support will also be used towards purchasing resources for the course, help him attend the Royal Forestry Society conferences, along with letting him focus on his studies.
Harry said, "It's such an honour and privilege to receive the CLA Scholarship and the John Hepworth Scholarship. They've both given me a real opportunity to succeed and become a Rural Chartered Surveyor in the future."