Scholarship to help student's business dream of making mushroom beer
31 January 2017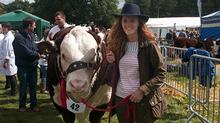 I'd like to diversify and start a new agricultural enterprise making artisan shiitake beer from our waste mushrooms."
Harper Adams University student Harriet Livesey has been brought-up on a farm that grows woodland mushrooms. Through her studies and placement year at Seasoned Cookery School, she has gained skills in marketing, business and diversification and wishes to use these in a new business which creates beer from waste woodland mushrooms.
The 23 year-old FdSc Business Management and Marketing student has recently received a John Longwill Agricultural Scholarship which she plans to use towards initial start-up and training costs of the new business.
The final year student from Ashby De La Zouch, Leicestershire, said: "This scholarship is a fantastic opportunity, which will allow me to reach my goal in commencing and developing my business idea and plan.
"Although I don't study agriculture at Harper Adams, I'm extremely interested in agriculture and ways in which farms can diversify, develop and progress, making the most from their resources.
"In order for farms and farmers to succeed, they have to be business-minded, be able to manage their assets and ensure profitably.
"I believe my direction of study and choice of placement has given me a vast understanding and insight into making informative business decisions, increasing productivity and ensuring profitability. I've also become more creative in my thinking, broadened my entrepreneurial knowledge and have the drive and determination to succeed.
"I've a desire to set-up my own business and I hope the financial support of the John Longwill Agricultural Scholarship will allow me to pursue this dream.
"I live on a pedigree Hereford cattle farm in the heart of Leicestershire and my family have been growing woodland mushrooms as a business, called Livesey Brothers, for over 30 years. Having grown-up on a family run farm, I'm passionate about all things homemade and homegrown.
"Growing fresh woodland mushrooms creates many challenges, from seasonal demand, crop failure, dealing with supermarkets, to overproducing, wastage, man management, and financial control.
"I'd like to diversify and start a new agricultural enterprise making artisan shiitake beer from our waste mushrooms. The John Longwill scholarship is very important to me, as it will provide crucial funds to enable me to carry out primary market research, attend short brewery courses, research micro-brewing processes, identify the market trends, and design and develop my brand.
"Throughout my studies and placement year I've learnt various transferable skills, which have already been put to the test when I helped assist setting-up 'Udderly Fresh Raw Milk', a diverse farming enterprise in Buckinghamshire, which sells fresh raw milk from the dairy farm directly to the customer from an on farm vending machine.
"The business is primarily ran by my boyfriend Jim Barker, a graduate of Harper, and his father Ian."