Milk innovation to be topic of final year scholar's project
27 January 2017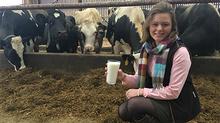 Being awarded the Newport & District Scholarship and a Clyde Higgs Undergraduate Scholarship is a great achievement to end a fantastic four years at Harper Adams University."
Harper Adams University student Jayne Bennett is aiming to make an innovative dairy product for her Honours Research Project (HRP) to add value to the cow's milk industry.
The 21-year-old from near Market Drayton in Shropshire said: "For my HRP, I'm going to be creating a new milk product that I hope can contribute to promoting the value of cow's milk.
"I went to SIAL Paris, a global food exhibition with a focus on innovation. I noted that plant-based alternative milks were having a major impact on consumer behaviour in the dairy sector. I believe these products are damaging to the value of cow's milk and that nutrition-focused innovation could allow cow's milk to compete.
"I'm extremely pleased to have received the Newport & District Scholarship along with a Clyde Higgs Undergraduate Scholarship, which will support the costs of my HRP and travel to New Zealand to gain more knowledge and ideas for the dairy industry," said the final year BSc (Hons) Food Nutrition and Well-being student.
"I would love to pursue a career in New Product Development in the dairy or bakery sectors. My sister, my mum and I run a small-scale business called 'Bennett's Baking', making bespoke occasion cakes to order. I also completed my placement year at Bakkavor Breads Bakery near Nantwich, which provided a wonderful experience.
"I've always been interested in food. From a very early age, I was involved in helping and observing the family dairy farm and my mum and grandmother's baking. I hope being truly passionate about food can contribute to a successful career.
"Being awarded these scholarships is a great achievement to end a fantastic four years at Harper Adams University. I feel very lucky to have studied at Cornell University and Beijing Agricultural University during my degree and making some lovely friendships along the way."