New scheme makes it easier for everyone to access agriculture degrees
9 December 2016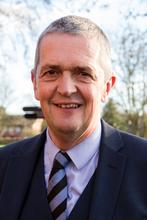 "It's really important that we make it as easy as possible for youngsters from outside our industry to get a foothold on the ladder into it."
A new scheme launched by Harper Adams today to give a wider range of people access to careers in the agricultural sector has been welcomed as "encouraging" and "imaginative" by the Vice-President of the NFU.
Young people wishing to pursue a career in farming or ancillary industries despite having little to no prior experience in the sector are to be given a helping hand through the Access to Agriculture programme, which will give candidates committed to the sector an opportunity to expand their skills and experience during their first year of study.
Guy Smith, Vice-President of the NFU, who visited the university yesterday, welcomed the move:
"It's really important that we make it as easy as possible for youngsters from outside our industry to get a foothold on the ladder into it. It's encouraging to see one of agriculture's most foremost centres of education and excellence thinking imaginatively about how this can be achieved."
Laura Harper, Head of Admissions, outlines the plans:

"Applicants are normally expected to complete at least 10 weeks of work experience on commercial farms before they can commence one of our agriculture courses.
"Work experience helps prepare applicants for their studies and the industry placement that agriculture students undertake during their degree course. When coupled with the placement it also gives students a head start for future employment, in which the University has an outstanding track record.
"However, we understand that it can be challenging to meet this requirement for those from non-farming backgrounds who do not have access to family or friends with farms or to the kind of contacts who can help them to secure work experience.

"For BSc applicants identified as being in this position, subject to eligibility checks, we will be delaying by one year the work experience deadline (normally the August before they start at university) to allow them to take advantage of a variety of activities and experiences available on and around the university campus."
Further details of activities that will count towards the Access work experience programme will be announced in the coming months, but are likely include elements of the Land-Based and Farm Skills Programmes offered to university students, which lead to certification in tractor driving, tele-handling, pesticide application and animal handling, alongside work on the university farm including milking and lambing duties.
Students will be assigned a dedicated tutor to assist them in accessing the University's farm and employer contacts to help them satisfy the full requirements of the programme.
Applications
Applicants who want to pursue agricultural careers but might have been put off by the previous work experience requirements are reminded that they still have time to apply for 2017 entry. The university will consider applications received after the UCAS deadline in January, and prospective students have a chance to visit the campus and find out more on December 19th.
Animal science programmes at the university are also changing pre-entry work experience from an essential entry requirement to a desirable one, due to the availability of on-campus animal management opportunities.
Veterinary Nursing and Veterinary Physiotherapy will continue to assess applications to take account of students' pre-university skills, which are used from the outset of the courses.
No other courses have compulsory work experience requirements, although candidates are reminded that work experience always gives a competitive edge when academic requirements have already been met or exceeded.
Enquiries
Enquiries regarding work experience and the Access to Agriculture programmes should be directed to the admissions team by email to admissions@harper-adams.ac.uk or by calling 01952 815 000.