Zambia farming project features in UUK international innovation report
24 October 2016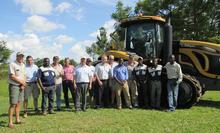 "Working for farmers and corporate businesses alike, the Harper Adams team of consultants, researchers and students strive to safeguard values of competent management and sustainable, environmentally sound practice in farming."
Harper Adams University's efforts to support farming in Zambia feature in a new report by Universities UK International (UUKi), detailing the breadth of UK universities' international activities which foster innovation and university-business interaction.
University-business interaction and knowledge exchange are well researched in a domestic setting, but there is less research into how UK universities contribute to international innovation. The report, supported by BIS (now BEIS, the Department for Department for Business, Energy & Industrial Strategy) gives timely examples of such contributions.
Developed to inspire further international collaborations, the report, "International innovation and UK universities", also serves to inform policy makers about the role universities play in the development of innovation in the UK and globally.
Harper Adams is one of just 12 universities selected to feature in the report, which was launched in Shanghai by Jo Johnson MP, UK Minister of State for Universities and Science, when he visited China for a series of events highlighting the strength of UK-China education and science and innovation relationships.
The report, available here, offers a series of recommendations as well as a variety of case studies – including Harper Adams University's partnership with AGCO Corporation, Bayer PLC, Yara International, Precision Decisions and Rabobank to build innovative and sustainable farming in Zambia.
The case study explains: "AGCO, a global leader in the design, manufacture and distribution of agricultural equipment, has a 99-year lease on a piece of land in Lusaka, Zambia, where they are developing a demonstration farm.
"The Future Farms programme will showcase innovative technologies and provide training and education for Zambia's entrepreneurial farmers. Harper Adams University, which has long-standing relationships with AGCO, the project's lead industry partner, is the academic partner. The university undertakes knowledge transfer (KT) to ensure farmers can evaluate products from commercial businesses and understand the benefits to their farm before acquiring them.
"Working for farmers and corporate businesses alike, the Harper Adams team of consultants, researchers and students strive to safeguard values of competent management and sustainable, environmentally sound practice in farming."
The take-home message from the Zambia case study, according to the report, is that "Universities find a natural business model in the interface between big business and communities. There they can research productivity and needs, becoming valued consultants for both suppliers and consumers, whilst also keeping their innovative research relevant due to the direct engagement".
Dr David Llewellyn, Vice-Chancellor of Harper Adams University said: 'It is good to see our international work featured in this important and timely report. We greatly value our collaboration with AGCO in Zambia. It not only adds significantly to the global perspective required for our education and research activities, but, by working with local partners, it is also helping to create new approaches to support food production in this part of the world.
Daniel Shah, Assistant Director, Policy, UUKi commented: "Our Universities are among the UK's most vital assets, right at the heart of the innovation ecosystem. For the UK to prosper in a global knowledge economy and make a success of its new international relations, universities must be central to the UK's world-wide innovation efforts. This report highlights diverse UK university success stories in contributing to international innovation and offers guidance to institutions looking to develop in this area."