Author encourages children to see insects as heroes after getting over own fear of them
16 September 2016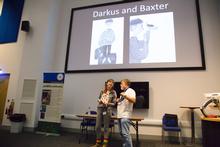 Suddenly, I had that moment, which has literally changed my life, of understanding one's ignorance and knowing that if I didn't know this, really most people don't know this stuff."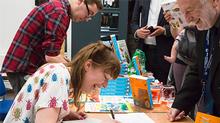 At the recent entomology conference hosted at Harper Adams University, the author of the popular children's book Beetle Boy shared how writing the story helped her to get over her fear of insects and see them in a new light.
"Beetles, earwigs, woodlice, I literally thought I'd be a much happier person without them," started Maya Leonard, or MG Leonard to her readers.
"If they were in my house, I had sprays to kill them. I can't tell you the level of my fear; how many picnics were ruined and how many times I humiliated myself in front of others, by literally screaming and running out of the room.
"It's been an absolute revelation to me to learn you can get over a fear like that. It is totally and utterly linked to ignorance.
"I was writing a very ordinary, cliché book that wouldn't amount to anything," the author admitted to an audience of entomologists and university staff in the Weston Lecture Theatre on the Harper Adams campus.
"The villain had a lair, and I wanted to fill it with villainous things like snakes, rats and insects – it was going to be filled with creepy crawlies!
"One thing I do care about is that I write well. I didn't really know what the term 'creepy crawly' referred to. I thought to myself, am I so thick that I don't know the proper term? How can I describe what creepy crawlies are?
"So I made a list. On the list, quite near the top was 'beetle', so I Googled it. The Wikipedia page blew my mind.
"I went down it and learnt all the useful things they do, like pollinate stuff! That they can be enormous and come in all colours of the rainbow.
"Suddenly, I had that moment, which has literally changed my life, of understanding one's ignorance and knowing that if I didn't know this, really most people don't know this stuff."
Talking directly to her audience, Maya said: "I think sometimes you entomologists are pitching too high. We don't know what beetles are. I'm supposedly clever, I'm cultured and I didn't know what a beetle was!
"And I was very embarrassed. I'm a mother and I don't want my children to have my fear and I want them to know what beetles are.
"Once I started learning, I felt terrible I was going to chuck beetles into this villain's lair. I felt awful about trying to commit what many others have done, which is to create a cultural product in which insects are vilified when in actual fact they are heroic. It was really obvious to me, in that moment, that I had to write a book in which insects are heroic."
She went on to describe her ambitions for the books to be a source of learning, for old and young: "I wanted a book that teachers would embrace into their classrooms; for parents to read with their children and learn along with them. So that you can be walking out in the countryside with your son or daughter and say, 'oh look! It's a beetle.'
"You know what, I didn't know a ladybird is a beetle! There are so many people who don't know that. There's so much ignorance there and I wanted to change that."
'Beetle Boy' has sold more than 100,000 copies in the UK alone and has been translated into 30 different languages.
"The book is going to be everywhere, and I've worked so hard to make sure that the basic facts are there. I've pretty much done it for you entomologists. The entomologists of my book are the heroes, I genuinely really respect the work that you do. And it has distressed me to learn, since the book has come out, just how small the entomology community is. There should be more. There should be more interest in the science and I'm hoping that my book helps with that.
"I'm hoping that the power of the relationship between my protagonist and beetle, the genuine affection and understanding of what this boy and beetle have together in the readers' minds encourages them to feel more empathic about insects.
"I keep rainbow beetle stags at home now. My fear of insects has completely melted away. I'm so proud of my children who will hold the stags as I put the new jelly into the enclosures. My son who was scared of insects is no longer scared."