Harper Adams open for Clearing with a range of courses available
15 August 2016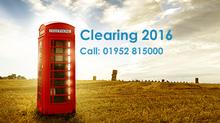 "The courses we have available are listed on the website harper.ac.uk/clearing alongside their entry requirements and we are encouraging candidates with the right grades and experience to lift the phone and chat with us to see if we can work together to set them on the right path."
Harper Adams has a variety of courses open to admissions through Clearing and Adjustment.
"Anyone holding their results and considering or needing a change of plan for September can call now to discuss the options available to them," says Laura Harper, Head of Admissions.
"The courses we have available are listed on the website harper.ac.uk/clearing alongside their entry requirements and we are encouraging candidates with the right grades and experience to lift the phone and chat with us to see if we can work together to set them on the right path."
The university offers a range of courses linked to animal health, land management and the food chain, all supported by specialist facilities.
Take Veterinary Physiotherapy: Harper Adams teaches animal physiotherapy at undergraduate level, supported by the new Veterinary Services Centre which will soon be offering pet rehabilitation services to the community, giving students plenty of real-life experience.
One new course for 2016 is Geography, complementing the existing courses in countryside, wildlife and environmental management and approaching the subject from a sustainability angle. Senior
Lecturer Jonathan Cooper explains: "The geography programme is built around the water-energy-food nexus. Expertise in areas including water management, sustainable energy and food security are integrated in this course to train a new generation of professionals."
Other careers a degree from Harper Adams could lead to include chartered surveyor, land manager, agricultural engineer, business manager, animal behaviourist, agricultural contractor and many more. See 3point7.com for a comprehensive overview of careers after Harper Adams.
And for those who don't yet have the right grades for degree study, Harper Adams also offers the Extended Foundation Degree Programme, which works as both an alternative to A-levels and a route back to education for mature students. Paths are available leading to business, agriculture, animal management, and countryside management degrees.
Clearing candidates will be welcomed to a special open day on the Shropshire campus next week. Call 01952 815000 or visit Harper.ac.uk/clearing to request a call-back.

Clearing courses and help

See also: Guide to getting in to Harper Adams