Two worthy students share RWAS/Harper Cymry Student Award 2016
4 August 2016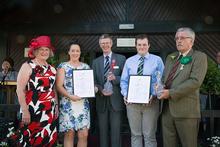 For only the second time in the history of the RWAS / Harper Cymry Student Award, two candidates were considered equally worthy contenders. The 2016 winners are final year students, Sophie Jones and Liam Williams.
Chairman of the judging panel, Hefin Richards, said: "These two stood clearly in the lead. Sophie Jones and Liam Williams impressed us both with their University activities and achievements, interviews, and clear focus on what they were aiming for and how they were going to reach their goals. Both had a range of outside interests and demonstrated passion and commitment to all they have been involved in."
Sophie Jones has recently completed her studies at Harper Adams University with a BSc (Hons) degree in Food and Consumer Studies.
Her placement year was spent at the highly-acclaimed Ludlow Food Centre where her work involved a project focused around developing software to monitor allergens in the centre's hundreds of in-house products.
Sophie enjoys baking and cooking in part-time jobs at local food outlets and in her spare time. She has enjoyed success in various competitions such as YFC cookery competitions, at local agricultural shows and was the Rotary Young Chef of the Year in 2010.
Having grown up on the family run farm in the heart of the Brecon Beacons, Sophie has always been involved in the day-to-day jobs of living in the countryside including lambing, and has had several successes with showing sheep and taking part in stock judging competitions through the Brecknock Young Farmers.
Sophie's ambition is to start her own food business and she is keen to encourage young people to use local food resources. She says: "An awareness of the food industry is vitally important to the younger generation to enable them to gain an understanding of where their food comes from and a respect for the source of their food."
Liam Williams recently completed his studies at Harper Adams University with a BSc (Hons) degree in Countryside and Environmental Management. His key areas of study included habitat quality and protection. The subject of his dissertation was "an evaluation of river water quality and the reasons for failure of recovery in river systems using the River Usk catchment as a case study".
Liam, from Treharris, has had a strong involvement in rural pursuits, helping out on local farms and as a member of field sports organisations.
Fishing is Liam's other great passion. At 16 years old he gained the UKCC level 1 angling coaching qualification. As part of the Angling Association's coaching team he has taught people of various ages and backgrounds the basic skills of fishing and he now helps to organise events for the association. In the past Liam has achieved success in the Welsh Salmon and Trout Association's Youth Fly Tying Competition winning both the best dressed individual fly and the overall competition.
With the Merthyr Tydfil Angling Association Liam has been involved in working parties on bank restoration and habitat creation to improve the environment for aquatic flora and fauna.
In addition to his studies at Harper Adams Liam has acted as final year course representative and as Chairman of the Harper Cymru student society.
Liam's ambition is to work within the environmental consultancy sector with focus on countryside stewardship and environmentally sustainable farming.
Liam says: "Environmental protection and agriculture are heavily dependent upon each other. I would like to be able to contribute to both sectors, looking to maintain or improve the environmental performance of agriculture whilst protecting the rural landscape for future generations to enjoy."
A further student winner at the show was Alex Robinson, from Pembrokeshire, who collected the Gareth Raw Rees Memorial Travel Scholarship.