University team wins national award for outstanding work
24 June 2016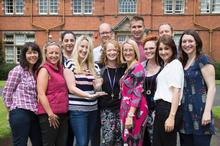 Edible insects, singer-songwriter Ed Sheeran and a rise in enrolments were part of a package that won Harper Adams University the award for Outstanding Marketing/Communications team at a national awards ceremony last night.
Staff from the university attended the Times Higher Education Leadership and Management Awards in London, where comedian Jimmy Carr – who in April revealed Harper Adams as University of the Year at the 2016 Whatuni Student Choice Awards – revealed the win for the marketing team and presented the trophy to team member Tom Klages.
A statement from the judges says: "The Shropshire institution, which specialises in farming, agricultural studies and managerial studies, had to meet the recruitment challenges of the removal of student number controls – and a declining population of 18-year-olds – with a small marketing team and budget.
"Just 15 staff cover media relation, student recruitment, events, PR, widening participation, advertising, social media, websites and marketing."
One of the key tactics highlighted by the judges was the Edible Bugs Challenge that toured agricultural shows an secured media coverage across the UK. The challenge reached more than 5,000 show visitors at at one event increased engagement 500 per cent. The Ultimate Bug Challenge is now on the road for 2016.
Also noted by the Thelma judges were successful bids for public funding to build local university networks, and a network of alumni in Ireland acting as recruitment agents.
The impact of the team's work included a 20 per cent rise in open day attendance, an increase students who attended open days applying to study at the university, a rise in applications overall, a rise in market share, and an increase in better qualified applicants and students.
Judges concluded: "Harper Adams's novel and innovative communcations straegy to attract attention not only for PR purposes but also to get visibility with prospective students...was very successful, increasing its applications and its recruitment of good students."
Simon Pride, the university's new Director of Marketing and Communications, congratulated the team:
"This award underlines that Harper Adams is at the forefront of innovative and bold marketing in the higher education sector that is successfully inspiring the next generation of recruits to create a sustainable agri-food chain and related industries globally."
Simon joined Harper Adams earlier in June, having previous led the marketing efforts of Arts University Bournemouth.