Student Holly hopes London Marathon will help Guy's fund hit £20,000
30 March 2016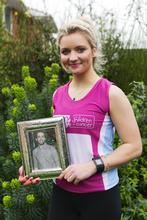 I am determined to do this. Ever since Guy passed away fund-raising has been the one thing that gets me through."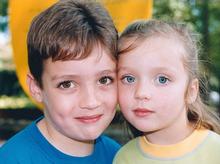 Harper Adams University student Holly Bishop is getting close to reaching a fund-raising total of £20,000 this year – and is hoping that running the London Marathon dressed as a pink troll doll will help get her there!
Since losing her brother Guy, also a Harper Adams student, to brain cancer in 2014, Holly has made it her mission in life to raise money for the charities that helped her brother and her family the most, including Clic Sargent and Macmillan Cancer Support, and for the Headcase Cancer Trust, which is working towards finding a cure for the type of cancer Guy had, Glioblastoma Multiforme.
Holly said: "I will always be so proud to call Guy my big brother and have made it my mission to keep Guy's memory alive while raising money for very worthy causes.
"In 2014, myself and a brilliant team raised money for Clic Sargent in a bid to thank them for the help and support they provided Guy and our family with throughout his time of need. The incredible total of £11,030.53 raised and the generosity from everyone will never fail to overwhelm me.
"But I knew we could do more, so we kept going throughout 2015, raising money for both Clic Sargent and Headcase, and we have events still to come in 2016.
"I'm in training for the London Marathon (April 24) and really hope it all pays off. In preparation I ran the Silverstone Half Marathon on March 13 and recently completed my longest training run yet – 20 miles – around the Peak District.
"I'm having knee problems, but I am determined to do this. Ever since Guy passed away fund-raising has been the one thing that gets me through.
"Thinking about my brother, and the fact I'm raising money for a good charity, keeps me going.
"I said if I had enough donations pledged I would run the marathon dressed as a troll doll – and now I have to do it because we surpassed that total - £4,000 –before Easter!"
Also coming up is the now annual Guy's Night at Harper Adams. DJ Greg James will be playing in the student bar at the fundraiser – which happens just a couple of days before the marathon.
"The night in the SU is the perfect tribute to my brother," Holly added. "Guy was full of life, he was funny and charming. We fought throughout the majority of our childhood but I wouldn't have had it any other way (in hindsight). Like myself, Guy studied REALM and was on his placement year on an Estate in Inverness when he was diagnosed with brain cancer in 2013.
"During his time at Harper, he was heavily involved in the SU and spent many hours in the bar preparing staging, lighting and sound for student nights and balls. Guy's Night is all about celebrating the life of Guy and all that he achieved, and his passion for creating a great night for everyone to enjoy, along with raising lots of money for a charity that helped him during his illness.
Holly added: "We'll soon have charity wristbands on sale on the campus, featuring the Guy-ism 'life's too short – crack on' and hope fellow students will keep buying them and wear them on the night.
"It absolutely makes my day when I see people wearing the bands, so if people can spare £2, I would be so grateful! If anyone would like to purchase a band, then I am more than happy to post them out if they message me with their address and kindly donate to my Just Giving page at www.justgiving.com/Holly-Bishop5/."
Holly and friends have already completed a sky dive, The Great North Run, Tough Mudder courses and more. In 2017, after graduating from Harper Adams, Holly hopes to cycle from John O'Groats to Land's End.
All of this has been achieved alongside Holly's studies in Rural Enterprise and Land Management and her current work placement as a trainee land agent at Chatsworth Estate.
Holly added: "Clic Sargent is a children's cancer charity who helps children, young adults and their families when coping with cancer. They deserve the recognition and the support and I will continue to raise for them to thank them for all of their help and to help extend their care further, to more families."
To support Holly's fundraising mission and donate in memory of Guy Bishop, visit www.justgiving.com/Holly-Bishop5/.