Seven new pig industry scholars preparing for work placements
23 March 2016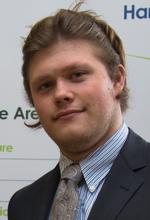 I felt privileged to have received the award after the vast amount of students that had applied. I cannot wait to have the opportunity of a lifetime."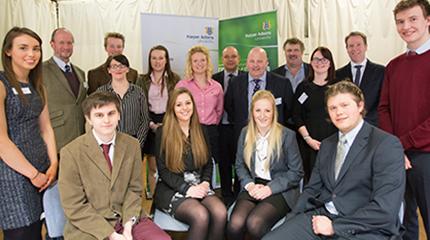 Seven new pig industry scholars have been selected and are preparing to start work placements with their sponsoring companies this summer.
The AHDB Pork Pig Industry Scholarships at Harper Adams University offer students payments of £4,500 for the academic year plus a paid, one-year industrial placement.
William Symons, 22, from Burnham-On-Crouch, Essex is sponsored by Rattlerow Farms.
The second year agriculture student said: "I feel greatly honoured to be given this scholarship as very few people in my position get offered these opportunities. I plan to work as hard as I can to make Rattlerow Farms proud of me being with them.
"I have grown up around pigs and this gave me the opportunity to further increase my knowledge and of how a different, successful pig farm works and how they've branched out to make themselves more unique and profitable.
"On my placement with the company, I will be working on all different aspects of the business; from the breeding of pigs, to producing high quality boars for national sale. This will include looking at the genetics of a boar and seeing how that will create a superior hybrid pig.
"Ultimately, I would like to be able to run my own farming enterprise, and if pigs can play a part in that business then I will be happy with what I had to do in order to reach that point."
Wes Udall, an Agriculture and Animal Science degree student, had been awarded the For Farmers Nutrition scholarship.
Wes, 20, from Nuneaton, Warwickshire, said: "I come from a non-farming family and have only been working on a farm for five years, so it is a true privilege and honour to have been awarded a scholarship by Harper Adams University and For Farmers. It has taken a lot of hard work, time and effort but it is a marvellous feeling to know that it is all paying off.
"For my placement, I will be based in Norfolk and work in all the departments of the For Farmers Company. I especially am looking forward to working closely with farmers in an advisory role as this is something I have always wanted to do. When I graduate from Harper Adams University, I hope to become a farm animal nutritionist."
Anna Carmichael, an Agriculture with Animal Science degree student, has been awarded the Devenish Nutrition Pig Scholarship.
Anna, 20, from Larne, County Antrim, said: "I couldn't believe it when I heard I had received the scholarship. I felt privileged to have received the award after the vast amount of students that had applied. I cannot wait to have the opportunity of a lifetime as well as the privilege and opportunity to work and learn with one of the leading feed companies in Northern Ireland. Enhancing my passion and interest in agriculture both in Northern Ireland and the UK.
"Meeting the Chairman and Chief Executive of Devenish Nutrition at the 2010 Harper Ireland's annual dinner really inspired me to apply for the scholarship. He was a great person to speak to and gave me a great insight into the business.
"My ambition is to work within the animal nutrition or animal health sector, aiding to animal health and welfare. I have always wanted to be involved in the animal nutrition sector as I find it very interesting to develop diets for animals as well as assessing the efficiency and effectiveness of particular diets."
Mark Cuddy, an agriculture degree student, was also awarded a Devenish Scholarship.
Mark, 20, from Dungannon, Tyrone, said: "I am delighted about the award and look forward to working with Devenish
"My placement year will centre around learning about the British and Irish pig nutrition markets and experience Devenish's feed mills.
"My ambitions are to move forward in the pig industry and develop and learn new skills."
Christina Gale, a bioveterinary science degree student, has been awarded the Ceva Animal Health scholarship.
Christina, 20, from Bath, Somerset, said: "I am very grateful for the opportunity to work for such a well-known company who are at the front of animal health worldwide as part of this award. I am very excited to start work; July cannot come around soon enough!
"I applied for this award because I was looking for a placement within the pig industry that offered a balance between data analysis and practical work.
"I was excited at the prospect of a placement that would greatly challenge and would help me gain lots of valuable knowledge and experience.
"During my placement year I will be involved in the Ceva Lung Programme where I will be working within the pig industry looking specifically at two vaccines and aiming to improve effectiveness of these drugs.
"I hope to pursue a career in animal health when I graduate, in a similar role to the one I will be carrying out with Ceva. Pharmaceuticals and nutrition are of particular interest to me, particularly in the pig and cattle industries."
Lottie Farrow, an agriculture with animal science degree student, has been awarded the Cargill Provimi Pig Nutrition scholarship.
Lottie, 21, from North Yorkshire, said: "To be honest, I felt lucky to be given the opportunity of an interview! The interview only made me keener to work for Cargill, so when I was awarded the scholarship I was very grateful and excited for what my placement year will entail.
"I applied for the award because the representatives from the company were extremely friendly and welcoming at the placement fair.
"I went to the scholarship fair unsure of what placement was suitable for my course and how it would help in my future career. I had lots of questions about what each placement year offered and Cargill in particular answered all my questions in great depth and really sold the placement and scholarship to me.
"It is my ambition to achieve the most I can in a forward-moving industry with a well-respected market leader such as Cargill."
Henry Bowsher, 18, from Sittingbourne, Kent, receives the GE Baker – Quality Equipment scholarship.
Henry, a first year Agri-Business student, said: "I want to work in the pig industry because the sector is a small but progressive one and is trying to encourage people from a younger generation. Working for Quality Equipment will allow me to see the whole business and evaluate what area I would like to work in in the future. This is an excellent opportunity to further my career and experience."