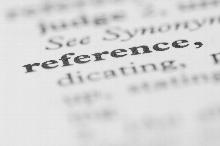 Referencing shows the reader of your work where the information you have used comes from. This is important because it protects you from plagiarism, shows you have carried out thorough research and allows your reader to find the sources you have read.
To reference your work successfully follow the Guide to referencing 2016/2017 (Microsoft Word version) or use the A to Z example list below.
Refworks
Refworks is software which allows you to create an oline record for the resources you have used. You can then use those records to create citations and references in the Harper style. Contact us for more information and for the group code which you will need to sign up for your Refworks account.
Other referencing links
RefMe - free online referencing tool. Login using your Facebook account. Use your phone to scan ISBN's to create your reference. Unsure how to use it? Check out this video
Cite this for me - free online tool. Does not conform to the Harper Adams format, but is easy to use and edit.
Harvard generator tool - this web based generator tool won't put it in the Harper Adams format, but it may be a starting point for you.
Firefox reference manager - if you use Firefox, take a look at Zotero, a free extension to help you collect, manage, and cite your research sources.
Citing flow chart - unsure when to cite? Have a look at this flow chart developed by Cardiff University to help you decide.
Examples
Abstract
Every effort should be made to view the full article. However, there might be instances where the full article is not available. In these situations, it is acceptable to reference an abstract.
Author, Date, Title of article. Title of journal, Volume number (issue number), pp. page numbers. [Online Abstract]. Name of database. Available from: url[Accessed date]
e.g. Mishra, A. Bhattachariya, S. and Samanta, G. 2005. Effects of different forms of trace minerals on the performance of exotic pigs. Indian Journal of Animal Sciences, 75 (6), pp.676-679. [Online Abstract]. CAB Abstracts. Available from: http://cababstracts.edina.ac.uk [Accessed 2 August 2011].
Acronyms
For the sake of your word count, it is acceptable to use acronyms in your citations (in the text).
If you use an acronym in your citation it should also be used as the 'author' element of your reference. However it must be followed by the full name of the organisation (in brackets). For example, a page from the DEFRA website would be referenced: DEFRA (Department for Environment, Food and Rural Affairs). 2003. The citation (in the text) would be DEFRA, 2003.
Act of Parliament (print and online)
The convention for referencing printed and online Acts of Parliament is the same.
The chapter number is not required. Section numbers are entered in lower case in the citation but not the reference
Cite and reference international acts the same as UK but include country details
Name of Act Year, sections
Landlord and Tenant Act 1988, s9 (1) (a)
International: Name of Act (Country) Year
Energy Policy Act (United States) 2005
Name of Act Year
Landlord and Tenant Act 1988
International: Name of Act (Country) Year
Energy Policy Act (United States) 2005
Advertisement
See also Poster
The 'author' element will usually be the company whose product is being advertised. In the 'title' element include a brief description of the advertisement. If you saw the advertisement within a publication, include details of that publication.
Author. Date. Description. In: Title of Journal , Vol (issue), p. page number .
e.g. Abbey Forestry. 2006. Advertisement for woodland management services. In:British Farmer and Grower, (46), p. 59.
Audio-visual material
See DVD or Television / radio programme