Online Resources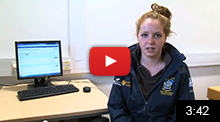 Finding books and journal articles
You search for books and journal articles using the search box Find it @ Harper, on the library home page.
The quick Guide to using Find it @ Harper provides you with more information on using the system and you can see how to access our resources off campus in the Guide to logging into Find it @ Harper off campus
Finding books and print journals
We have around 41,000 books and over 2000 different print journals in the library. You can find out how to search for them on the Finding information in the library page but much of the information you will need for your work is online. We also have access to about 600 e-books.
Keeping up to date with news on resources
The Library updates page reports any known problems with accessing resources as well as news about trials of potential new resources and resources we have bought recently.
Searching for electronic journal articles and conference papers
The best place to search for e-journal articles is Find it @ Harper. It is a Google-like search engine which searches many of our electronic resources at once.
There are a few places which Find it @ Harper cannot search, so you may have to search some resources such as Mintel and ASABE individually. You can find links to all the individual resources on our Databases page.
You can find out more on individual resources for your subject area on our subject guides pages.
Official information, statistics and reports
Many of your assignments will require you to use recent official information from government departments and major organisations such as Natural England. We keep some of this information in the library but the best source is the Internet. Make sure the information is from a reputable source.
E-books
We have an increasing number of e-books, which you will find on the library catalogue. They have a separate record from the print version, so look for the record which says e-book which will provide you with a link to it. Off campus you will need to log in with your Harper Adams ID and password.
More help
If you need more information on different information sources or search techniques go to the Study Skills section, talk to us at the Enquiry Desk or email or phone us
Help us improve this site
Having difficulty finding the information you need on this site? Feel that information is missing or in the wrong place? Send your suggestions on how we can improve the Library Services website using the 'Report a problem' form.