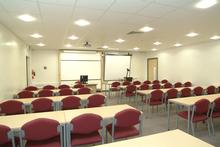 Seminar rooms
The Foulkes Crowther building has a selection of seminar rooms ranging in capacity from 20 to nearly 100, these can be used on their own or together as part of a larger conference, many events choose to 'theme' the rooms and have different activities in each.
IT facilities
With three dedicated IT suites, the Foulkes Crowther is the ideal base for training sessions and computer based seminars.
Lecture theatre
One of our four lecture theatres is located here; capable of seating up to 150 this is ideal for larger formal presentations and group work.