Starting higher education is an exciting yet daunting experience for any student. Living in Halls makes the transition from home to university so much easier and undoubtedly more exciting. As well as enjoying the convenience of social and academic activity on your doorstep you will also benefit from all of the services, support and security that our on-campus accommodation has to offer. Whichever Hall you are allocated you will have fantastic fun and make friends for life!
Jo da Silva, Student Services Assistant Manager
On-campus accommodation includes:
Three meals a day, Monday to Friday (except for self-catered rooms)
Weekly laundry service (with clothes washed, folded and ironed shirts) (except for laundry self-service halls)
Regular cleaning service
Wireless internet access throughout the residences and the campus
Convenient location, no more than 10 minutes walk from any part of campus
Support from live-in student wardens
Support from staff resident on campus
Free on-campus parking
Cycle racks
24-hour security, including an entry card system and CCTV
Heating and electricity
Both mixed and single sex residences
Designated accommodation for students under 18 years of age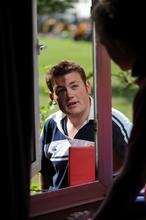 The Halls of Residence
The University Halls of Residence, all within just a short distance of each other, offer a range of accommodation; more details about what each hall has to offer is available in this section.
Support
Support for resident students is of great importance to us, every Hall has two final year Student Wardens who live in, and are a point of contact for all resident students. With a total of 16 Student Wardens covering an overnight on call rota, their support is always available should an emergency situation ever arise. Additionally, Student Services Staff, the Student Union President and the Vice-Chancellor are all resident on-campus and are contactable in the event of an emergency.
Security
Our rural setting helps students feel less vulnerable than city living. As well as round the clock security, campus-wide CCTV, and card entry systems in every Hall, living on such a close knit campus is like being part of one big Neighbourhood Watch scheme.
Socialising
You'll make lifelong friends at Harper Adams and most of these friendships begin in your Hall of Residence. There's always someone around to chat to, and because the majority of you will be experiencing university life for the first time you'll have lots in common. The cafes, main bar and lounge bar are always buzzing, there are lots of clubs and societies to join, sports galore, and the SU makes sure your social calendar is always full.
Convenience
Everything at Harper Adams is on one attractive campus, so you're never more than five minutes walk from any of the facilities, be it the library, lectures, your friends' Halls, or the SU and Student Services.
Costs
Please read our Accommodation Charges PDF for the latest figures.
Provisions for students with disabilities
Harper Adams is committed to providing an accessible and supportive learning environment for all students.
Two of our Halls of Residence currently have lifts for ease of access, several rooms have been built specifically to accommodate wheelchair users, and we are always keen to meet the needs of students who may require modifications in their room, such as intercom systems, flashing lights on fire alarms, and mechanical beds.
Whatever your disability and whatever your requirements please feel free to contact the Learner Support Co-ordinator, Jane Hill, who will be happy to discuss your individual needs.
Our guarantee
We make every effort to offer on-campus accommodation to Undergraduate and Extended Foundation Degree (year 0) students in their first year of study at Harper Adams University. As a condition of entry into University students are normally required to accept their allocated accommodation. However, due to the high demand for on-campus accommodation, students are encouraged to apply early as rooms will be allocated on a first come, first served basis. Later applicants may be placed on a waiting list and/or given appropriate assistance in seeking off-campus accommodation.
Please note, in a change to previous years, students within a 30 mile radius will also be considered for on-campus accommodation, without restrictions.
All international students are entitled to on-campus accommodation for their first year of undergraduate study at Harper Adams, after which assistance is available to find suitable alternative accommodation in the local area.
Every effort is made to accommodate postgraduate and exchange students on-campus, with priority given to international students, but where this is not possible help is available to find appropriate accommodation off-site.
UUK Accommodation Code of Practice
All Harper Adams University Halls of Residence and other accommodation buildings are fully compliant with and covered by the Universities UK Accommodation Code of Practice. The Student Accommodation Code has been designed to protect your rights to safe, good quality university accommodation wherever you are studying.
It outlines everything you should expect from your university managed accommodation as well as your responsibilities as tenants.
Should you require any further information or for a copy of the Code of Practice, please refer to www.thesac.org.uk