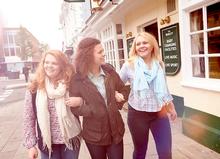 Most students live off campus in their second and final years and begin looking for somewhere to live as early as the second term of their first year. The vast majority of off-site student housing is located within a six-mile radius of Harper Adams, mostly in the nearby town of Newport or the village of Edgmond.
Types of accommodation range from single occupant residences or lodging with a family to shared houses for up to nine people. These encompass apartments, houses, bungalows, cottages, and even converted barns.
Landlords of off-site student accommodation are monitored by the local authority, Telford and Wrekin Council. The Accommodation Officer is happy to offer support, guidance and assistance to students searching for appropriate accommodation during their studies. Whilst the contractual agreement lies between the landlord and the tenants and does not directly involve the University, we can advise on what to look out for, questions to ask landlords, advice on tenancy agreements, and a range of issues once students are in residence. This support is offered to all students during their time at Harper Adams.
A list of local accredited accommodation along with property details and availability is available on our Property Search pages (internal site) from around January, when we also hold relevant information workshops and publish off-campus accommodation advice literature.
Most of the accommodation we can offer you has been visited by Student Services to ensure that legal standards are being upheld. Help and advice can be obtained from Jo da Silva with regard to agreements, landlord and tenant obligations etc. To help us continually review the suitability of advertised properties for student accommodation, we welcome feedback from current and previous tenants on properties and landlords.
Further projects to be undertaken by the Accommodation office include a full review of properties available in the area with updated information portfolios and further development of the existing accreditation scheme in partnership with Telford & Wrekin Council.
If you are an overseas student, Student Services will usually assist you in securing accommodation for you before you arrive in Britain.
Comparison of Average Student Living Costs - Off Campus
| Expense | Birmingham | Harper Adams |
| --- | --- | --- |
| Rent (Private Accommodation) | £50-90 p/wk | £55-75 |
| Utilities | £16-20 p/wk | £12-20 |
| Food | £40 p/wk | £30 |
| Travel Expenses | £20 | £20 |
| Newspapers | 50p-£1 ea | 50p-£1 ea |
| Sports (session) | £4 | £3 |
| Inexpensive Restaurant | £12 p/p | £10 |
| Drinks (in a cafe or bar) | | |
| Wine (glass) | £2.70 | £2.20 |
| Coffee | £1.50 | £1.00 |
| Tea | £1 | 80p |
| Soft Drinks | 90p | 60p |
| Beer (pint) | £2.80 | £2.50 |